ADIMI is a charitable association in Mijas that provide many essential services in assisting the personal development and social integration of disabled young people to improve their quality of life.  The association was founded in 1999 by a group of parents who had children with intellectual disabilities and a number of common concerns. Today ADIMI cares for 160 children and adults. Having worked from various small premises since its opening, after many years of waiting, with the building of the new centre at a standstill for a period of time due to lack of funds, it has finally been completed. The new, centre is a beautiful, modern facility and so the dream has become a reality.
As a non-profit association, when we are able to, we make donations for cultural projects.  Over the past six years we have made a number of donations to ADIMI.
About ADIMI
Calle Candilera 16,  La Cala Hills, Mijas
T: +34 952 46 21 10
E: info@adimi.es
www.adimi.es
Costa del Sol DFAS Contacts
If you are interested in our project and would like further details, please contact: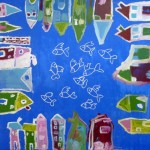 2015-2016:  "Impressions of Mijas"
ADIMI YOUNG ARTS EXHIBITION
"We are all different – we are all equal"

Thursday 14 April 12:00-14:00, All Welcome
Download Invitation
Funded by Costa del sol DFAS and Crawford Associates
Thirty young people from ADIMI are exhibiting their drawings and paintings in the new ADIMI Centre, the results of an art project funded by Costa del Sol DFAS and Crawford Associates. Six designs were chosen for greeting cards and these will be on sale at the exhibition with all proceeds from the sale going to ADIMI.
---
Background: We arranged drawing and painting workshops for 30 of ADIMI's young people on the theme of "Impressions of Mijas".  In two groups of 15 they had 4 sessions per group led by local professional artists Jane Gomis and Enrique Agusti Lafuente.  For the final session the youngsters brought a cake a both artists were given big hugs by them.  Seventy impressive, charming drawings and paintings were made and the paintings will be exhibited in ADIMI's new centre.
This was made possible by our Member Philip Crawford who sponsored the printing of the cards.
Margit Bjorklund, another of our Members and an artist, co-ordinated the successful workshops by members of the art class between the age of 16 and 33 yrs.
Previous donations used for art projects
Three donations were made to ADIMI being 2008-9, 2009-10, and 2010-11. The donations received by ADIMI were used primarily for the purchase of art materials. The paintings and the ceramic art work (picturesque wall plaques) was hung in the front office of the ADIMI current office situated in Rio Guadalete in Las Lagunas. The painting of the Madonna and child was featured in our DFAS magazine and this edition won the runners up media award in 2010 given by NADFAS.
The most spectacular art work that this donation helped to fund was the creation of large murals in the physiotherapy room at the Rio Guadalete office transforming the previous white and bare walls into a fairy tale grotto which all the smaller children enjoy when undergoing treatment. Many of the more able disabled contributed to these murals under the guidance of their art teacher.
The art classes that have produced all these works are held mainly for the benefit of the disabled that have reached school leaving age and for whom, without ADIMI's continuing help, a bleak future awaits. The paintings were completed, with the help of a qualified art teacher, by members of the art class between the age of 16 and 33 yrs.
We are proud to have been able to contribute in a small way to positive, creative and much enjoyed projects in our local community.  Art education is an important part of ADIMI's work as it not only stimulates the imagination, creativity and body expression (motor skills) but also helps to develop many skills, increase the self esteem and co-operation with others.