Monday 9 December 2019 at 16:30

Members: No charge (included in Membership Fees)
Non-Members: 10 Euro Pay at Door

Our Patron: The John Leith Memorial Lecture
Bizet's opera Carmen, about the flamboyant, tragic figure of the gypsy woman Carmen and her lovers, the soldier Don Jose and the bullfighter Escamillo, is based on a novella by Prosper Mérimee. Mérimee was an archaeologist and historian as well as a novelist, and much of his descriptive writing, carried across to the opera's libretto, was based on observation. Carmen famously worked in the tobacco factory in Seville but, far from being a dusty warehouse, this Baroque palace was the second-largest building in Spain. Now part of Seville University, it preserves many of the tobacco factory's furnishings, and celebrates its role as Carmen's workplace. Candilejo, the street where Lillas Pastia had his tavern, is still visitable, as is the bullring of the Plaza de Toros de la Maestranza, on the bank of the Guadalquivir river, where Carmen meets her fate. Simon Rees has worked as dramaturg on many productions of Carmen, and has photographed these and other locations in Seville, as well as researching costumes, sets and original productions, and musical illustrations, to give a vivid picture of Bizet's most famous opera.
About the Lecturer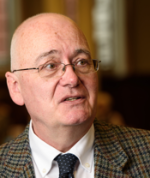 Simon Rees studied at Colchester Royal Grammar School and Trinity College, Cambridge, receiving a BA and an MA in English Literature. Taught in Italy and Japan, exploring the art and architecture of both countries. From 1989 to 2012 he was Dramaturg at Welsh National Opera in Cardiff, working with set, costume and props designers and giving lectures on their work in opera production. Now a freelance writer and lecturer, he lectures widely on opera, art history and literature, travelling extensively with travel companies. He has published several novels, including the award-winning The Devil's Looking-Glass, poems and opera librettos.